June 2019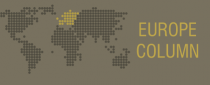 CPI Europe Column edited by Anna Tzanaki (Competition Policy International) & Juan Delgado (Global Economics Group) presents:
Competition Law and Syndicated Loans – A Framework By Oliver Bretz, Marie Leppard & Helen Bardell (Euclid Law)1
Introduction
In April 2019 the European Commission published a long-awaited Study by Europe Economics and Euclid Law that looked at the legal and economic issues in Loan Syndication. A full copy of the Study can be found at http://ec.europa.eu/competition/publications/reports/kd0419330enn.pdf
Whereas the Study looked at competition and regulatory issues across the sector, this article expands on the underlying competition law framework that was developed for the study. The views expressed in this article are therefore attributable only to the authors and not to the European Commission.
Multi-bank lending, including the provision of syndicated loans, by its nature involves a group of banks (and other lenders) who are otherwise actual or potential competitors coming together on commonly agreed terms for the purposes of providing joint funding to a borrower for a particular transaction. Syndicated lending necessarily involves co-operation between the lenders and agreement between the lenders and the borrower on elements such as, the required amount of capacity, a single price for the loan, a unified term sheet and the allocation of the proportion of the loan between the various lenders.
Multi-bank l
...