Events
» Competition Policy in Global Markets: Efficiencies and remedies in lean times
Competition Policy in Global Markets: Efficiencies and remedies in lean times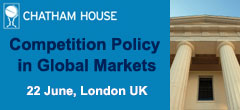 Friday 22 June 2012
Chatham House, London
Structural and procedural challenges; faster, leaner and meaner?
This annual competition policy conference will focus on the challenges faced by regulators and industry world-wide as a result of the global downturn and budget cuts. Issues to be discussed include:
• Should there be a move from case-by-case or complaints-driven enforcement to sector-specific, ex officio cases?
• Should enforcement reflect a business's economic difficulties?
• Competition issues relating to new technologies and the extractive industries.
Speaker highlights:
Joaquín Almunia, Commissioner for Economic & Monetary Affairs, European Commission
William E Kovacic, Global Competition Professor of Law and Policy, George Washington University
J Thomas Rosch, Commissioner, US Federal Trade Commission
Information and registration: www.chathamhouse.org/competition2012
Interested in partnering with CPI? Contact us if your organization is hosting an event!