August 2019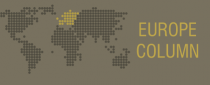 CPI Europe Column edited by Anna Tzanaki (Competition Policy International) & Juan Delgado (Global Economics Group) presents:
European Competition Policy in Digital: What's Next? By Nicolas Petit (University of Liege & College of Europe)1
This short note is about the future of European Union ("EU") competition policy in digital industries. It is somewhat patent that in the global division of labor, the U.S. (and China) have specialized in creating large digital firms, while the EU's comparative advantage has been in producing competition policies to discipline them. In past five years, the European Commission ("EC") has issued three decisions against Google, and collected close to 10 billion USD from its shareholders, i.e. Google Search (Shopping), Google Androïd, and Google AdSense. It fined Facebook in 2017 for breach of merger processes. The EC is currently investigating whether Amazon is using sensitive data from retailers to promote its own product offerings. And it is also looking at Spotify's complaint against Apple's 30 percent fee, as well as alleged foreclosure from the Apple Watch.
A draft Stigler Center report issued in May called the European Commission the "global enforcer" against digital platforms exclusionary conduct. And in a recent paper economist Carl Shapiro invites us to "look to Brussels for much of the action."2
So the question seems not so much whether European competition policy will be activist….