January 2019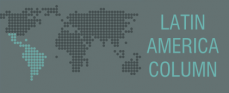 The Charter of Paris: Renewing Latin American Authorities' Commitment to Leniency Programs By Carlos Mena-Labarthe
Following a long delay, the most developed competition authorities in our región have reacted to the great scandals that have emerged all around the región regarding the use of immunity or leniency programs.
As we have previously said, there has recently been some controversy regarding leniency programs, particularly in the Andean region, following repeated violations of the basic principles of such programs by certain national and regional authorities.
In reaction to this controversy, and anticipating the snowball effect that can often follow these actions, the competition authorities in Argentina, Brazil, Chile, Mexico and Peru signed the Charter of Paris on November 28, reaffirming their commitment to the basic principles of these programs, to their improvement, and to working to solve the issues arising from the unfortunate case of Ecuador´s handling of the Kimberly Clark case, affecting other international companies as well.
The charter explicitly recognizes the importance of leniency programs for the purpose of carrying out the agencies' investigation and correction duties. They thereby commit to adopt and ensure the application of best practices on the subject. Specifically, it recognizes the importance of recommendations and the work done by the United Nations Conference on Trade and Development (UNCTAD) and the Organization for …