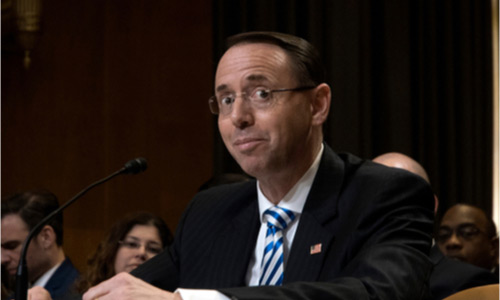 Former Deputy Attorney General Rod Rosenstein was named a partner at law and lobbying firm King & Spalding.
Rosenstein will be in the firm's Special Matters & Government Investigations group, which represents corporate, institutional and individual clients in sensitive legal challenges, the firm announced on Wednesday.
Rosenstein oversaw former Special Counsel Robert Mueller's Russia investigation and announced his resignation in April.
His time at the Justice Department spanned the administrations of Presidents George W. Bush, Barack Obama and Donald Trump. He was deputy attorney general from 2017 to 2019 and before that, was U.S. Attorney in Maryland from 2005 to 2017.
"Rod Rosenstein is an exceptional trial lawyer, strategist and leader with unquestioned integrity and toughness," Robert D. Hays, Jr., chairman of King & Spalding, said in a press release.
Former acting U.S. Attorney General Sally Yates and former Director of National Intelligence and ex-Sen. Dan Coats (R-Ind.) are also at King & Spalding, as well as several other former government officials.
---