Lina M. Khan's work "Amazon's Antitrust Paradox" has recently received the Michael Egger price from the Yale Law Journal.
The Michael Egger Prize is awarded on the recommendation of the Board of Officers of the Yale Law Journal for the best student Note or Comment on current social problems. Lina's Note is available on the Journal's website.
In a week, Lina Khan expressed her excitement.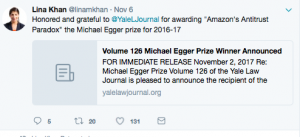 Full Content: Yale Law Journal
Want more news? Subscribe to CPI's free daily newsletter for more headlines and updates on antitrust developments around the world.