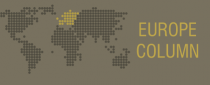 By Philip Marsden (College of Europe)1

I love babies, I love running, and I love water…especially tides. What does any of this have to do about competition issues in the digital economy though?
This note is provoked by many visits I've made recently to competition authorities and governments. They want to do something about online harms and competition problems, but don't know what to do, and don't think they have the necessary tools or – frankly – the economic might to make a difference. I thus introduce some thoughts I was honored to debate at the United Nations this summer, in a digital and competition conference of 193 member governments.
Digital giants are often perceived as all powerful, and enormously complex…but this doesn't mean that governments should throw up their hands and say it is "all too difficult" or "what can one country do?" or even "what if we get it wrong, won't the sky fall in?" The tech giants are all relatively young – Facebook is a teenager and Google in its early 20s – but they don't always act like grownups, sad to say. In fact, more often than not they act like giant babies with very simple wants. Indeed, they may seem to be providing us with amazing things, but they also take up a lot of our energy. So, yes, like babies they are life-changing, and wonderful, and they let us see the world through new eyes, and do things we could never have imagined. They give us joy and add real value to our li
!-->!-->…