Home
Authors
Posts by Achim Wambach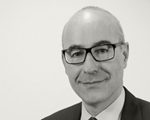 Achim Wambach
Professor Achim Wambach has been the president of the ZEW since 2016. He is chairman of the German Monopolies Commission, an independent expert committee which advises the German government and legislature in the areas of competition policy-making, competition law, and regulation.

Achim Wambach is also a member of the steering committee of the German National Platform for Electric Mobility (NPE) as well as a member of the advisory board of the State Government of Baden-Württemberg for Sustainable Development.

Achim Wambach obtained a PhD in physics at the University of Oxford and a Master of Science in economics at the London School of Economics. He completed his habilitation thesis in economics at the University of Munich and was professor of economics at the University of Erlangen-Nürnberg before taking on the position of Director of the Institute for Economic Policy (iwp) at the University of Cologne.

His fields of interest include market design and competition policy.

Currently, Achim Wambach is also acting head of the ZEW Research Department "Environmental and Resource Economics, Environmental Management".
CPI Content by Achim Wambach