Home
Authors
Posts by Michael McKee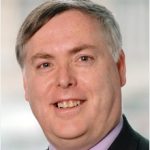 Michael McKee
Michael McKee is Head of DLA Piper's European Financial Services Regulatory practice. The team handles both contentious and non-contentious regulatory issues for clients across the full spectrum of financial services.

He has over 30 years' experience in the financial services sector having practised at major international law firms in London and with several years of in-house experience at Citigroup where he provided legal advice to the trading floor and other parts of the business.

Michael also has wide-ranging experience of banking and investment banking issues having worked for some years as Executive Director at the British Bankers Association where he led the negotiation of major European Directives such as the Markets in Financial Instruments Directive and the Market Abuse Directive on behalf of the banking industry in the UK. He also has a deep understanding of payments law and led the implementation of PSD across more than 20 countries for a major UK bank. His deep understanding of financial services law and regulation includes a wide range of contacts within the Prudential Regulation Authority and the Financial Conduct Authority and contacts with regulators across Europe and elsewhere.
CPI Content by Michael McKee