Home
Authors
Posts by John M Newman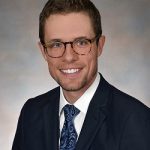 John M Newman
Professor Newman joined the full-time faculty in 2015 and currently teaches Contracts I and II, Conflict of Laws, and Antitrust Law. In 2016, he received the Faculty Scholarship Award. In 2017, he received the SEALS Annual Conference Call-for-Papers Award. Also in 2017, he was selected by students to receive the law school's Professor of the Year Award.

Professor Newman currently teaches Contracts I and II, Conflict of Laws, and Antitrust Law. Prior to joining the University of Memphis law faculty, he practiced as a trial attorney with the U.S. Department of Justice in Washington, D.C., where his primary practice involved civil antitrust litigation, analyzing the competitive effects of mergers and acquisitions, and investigating potential antitrust conduct violations. During his time with the Justice Department, he also maintained an active pro bono practice, representing low-income tenants in litigation and alternative dispute resolution and advising a start-up on intellectual-property licensing issues.

Professor Newman's scholarship focuses on competition and innovation policy in technology markets. His articles have appeared the University of Pennsylvania Law Review, Washington University Law Review, Vanderbilt Law Review, Maryland Law Review, Florida State University Law Review, and the George Washington Law Review. Along with Dr. Thibault Schrepel, he co-authors Le Concurrentialiste, a blog covering contemporary antitrust and competition issues. Professor Newman's commentary on antitrust law topics has also been featured in a variety of popular media outlets, including CNBC, the New York Times, Business Insider, and Bloomberg.

While earning his J.D. from the University of Iowa College of Law, Professor Newman served as research assistant to Herbert Hovenkamp, was managing editor of the Iowa Law Review, and published student notes in journals at the University of Iowa and the University of Virginia.
CPI Content by John M Newman