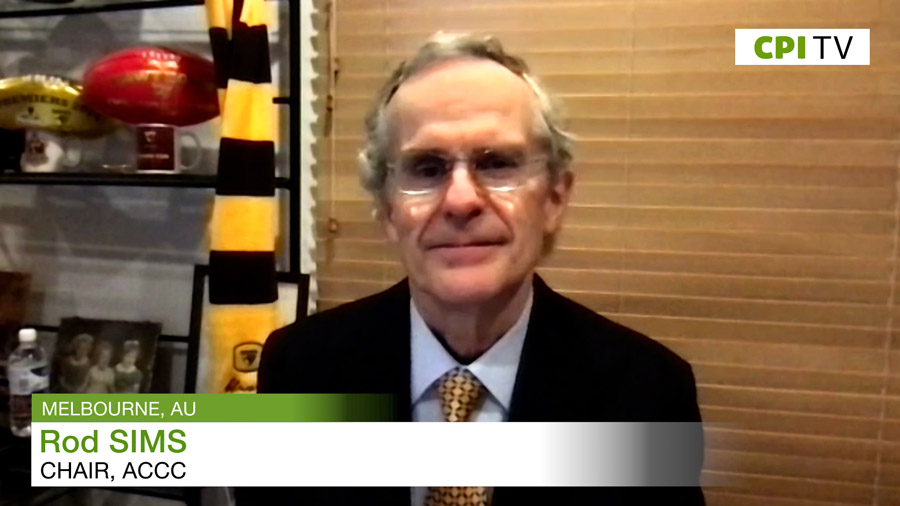 Below, we have provided the full transcript of the interview with Rod Sims, Chair of the Australia Competition & Consumer Commission (ACCC), recorded on August 20, 2021.
This is part of a series of videos that CPI is producing where we will interview the heads of various NCAs all around the world.
Thank you, Mr. Sims, for sharing your time for this interview with CPI.
A video of the complete interview is available HERE.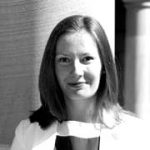 Barbora JEDLICKOVA:
Good morning, good afternoon, and good evening to everyone tuning in and listening to CPI TV. It's my absolute pleasure to interview the chair of the Australian Competition and Consumer Commission, Rod Sims on enforcement of Australian competition law. Rod is the longest serving chair of ACCC since the ACCC became the ACCC in 1995. The previous Australian Competitional watchdog was the Case Practices Commission. Good evening, Rod.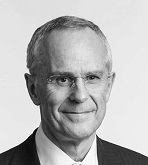 Rod SIMS:
Good evening.
Barbora JEDLICKOVA:
Rod, you've been in this role for exactly 10 years, as you were appointed in August 2011. In your role, you have seen and experienced a lot and I can only imagine that navigating the Australian competition authority through the COVID-19 pandemic is probably different to what you had to deal with before 2020. How has the ACCC dealt with the challenge of the COVID-19 pandemic, and are there other learnings that have emerged from the experience of the pandemic and the resulting competition law enforcement challenges?
Rod SIMS:
Thanks and hello to everyone and a pleasure to be here. COVID, yes, did throw up many new challenges. We essentially did three things. Unusually, we authorized which we have the power to do, competitors to coordinate their activity in certain areas so that they could serve the community at a time of COVID. We authorized hospitals and medical supplies to share facilities and activities. We also authorized banks to get together and work out how they would give relief on loans so that we felt they'd do more of that if they all did it together. We got supermarkets to coordinate some of their supplies. There was no price fixing allowed but we felt a bit of coordination in this crisis was helpful.
Secondly, we did a lot of work on consumer complaints because we're also the consumer agency. Flights that couldn't be taken, accommodation that couldn't be used, cancellations, do you get a credit? Do you get a refund? All of that. And thirdly, we looked at the competition effects and formed the task force to address that. And they looked at the aviation sector in particular, they looked at the level of imports and see whether less imports meant that you had more competitive pressures in different parts of the economy. It took a lot of refocusing of our resources as you'd expect.
The learnings, I think I'd say three things. One is, be flexible. Rather than just frankly talk about the benefits of competition and make sure you adhere to the act, we took a different approach because this was completely a crisis. We said akin to a wartime so slightly different, more flexible approach was needed. Secondly, we worked very closely with government and that didn't impinge our independence, it just made us more effective. And thirdly, we found we could do things without always relying on enforcement. We could set standards, set expectations and I guess a bit pressure companies to do things. Whether you do all that in a time of non-crisis, I don't know, but it all worked very well and still is.
Barbora JEDLICKOVA:
That's great. Thank you. What is your view on the current challenges posed by the technology sector? Do you believe that there is a need for reforms? I think I know answers to these questions, but obviously you're up.
Rod SIMS:
I do think the answer is there's need for change. You can see it in mergers, so many mergers taking place, a massive number of acquisitions is probably the better term, the tech sector's done. It's greatly entrenched their market power. It's reduced competition. Our merger laws aren't up to scratch. In about a week's time on the 27th of August, I'm going to be talking about the need to amend, change our merger laws to address all that. But more broadly, you've got monopoly or duopoly in social media, search, advertising, technology, apps, you name it. And I think really you're seeing behaviors there that do need to be addressed. You're seeing added competitive self-preferencing. You're seeing damage to innovation. You're seeing rent extraction, monopoly rent extraction, which damages the economy as well. You're seeing profiling, which has both economic and political consequences.
I think there does need to be change. We're observing the move to ex-ante regulation around the world. We're turning our minds to that in a very big way. We want to make sure we get it right and so we're doing a lot of work to think that through but we also want to make sure there's at least directional alignment with what's going on overseas and anything we can do to help contribute to that alignment, we're very keen to do.
Barbora JEDLICKOVA:
Thank you. What are some of the ACCC's biggest recent competitional enforcement achievements?
Rod SIMS:
We're extremely busy, and COVID slowed us down a bit, but not a lot. We just had a wonderful case win on an abuse of dominance case. It was involving a vertically integrated owner of a port. They were stopping companies providing other services at the port. We not only won the case, but we preserved the competitor and enhanced the position of the competitor so that you've got competition when you didn't have it before. We're really pleased with that.
We've got an awful lot of cartel activity, both criminal and civil going on. We've just been successful in three international shipping cartel cases, criminal cartel cases, I emphasize. On the other hand, we just had charges withdrawn in relation to our case against one of our major construction unions or our biggest construction union. We alleged that they were getting supplies together to raise their price so they could afford to pay more wages. It was a novel case for a whole range of reasons I won't go into now, it didn't proceed but that was interesting.
We've got big cases in court against banks, Citibank, Deutsche Bank, ANZ Bank, one of our big banks here, one of our major steel producers. I'm very proud of the fact that we just exceptionally busy on cartel activity. I'm a bit disappointed there's so much cartel activity but we've got a lot of work to do.
Also, on the consumer law cases, we won our case against Google when they were saying that you could just turn off the location setting and that would stop you being tracked your location, being tracked when that wasn't the case. It was nice to win that case but also in consumer law cases. The ACCC takes on, our consumer law cases usually involve much larger companies than competition law cases and we've been pushing for higher penalties. We just had one $50 million penalty against one of our largest telcos, $125 million penalty against VW. We're getting penalties over a $100 million and we want to keep that momentum going because we think that will only increase respect for consumer law, which we think is really important. A lot of work on a lot of fronts and keeping us very busy.
Barbora JEDLICKOVA:
Yeah, and it's certainly exciting to see the criminal cases because the criminal rating was falling quite recently in mid-2009. It's great to see successful criminal cartel cases and also of course as you mentioned on Section 46 misuse of market power because we've changed the provision just recently. To have a first case, it's really important to have a first successful case so that's great. Are we going to see any more cases on Section 46?
Rod SIMS:
Yes, you will. And we could not have run that case without the law change. In a sense at the moment, the cartel cases are taking a fair bit of our resources away. We've just reorganized so that we've got more focus on competition matters. I think you will see a lot more competition cases because from my point of view, often competition cases, anti-competitive behavior, abusive dominance, anti-competitive agreements, often can do more harm to the economies than the cartels scan. It's really important we ramp up in that area and that's going to be one of my key focuses going forward over the next year to do that.
Barbora JEDLICKOVA:
It's so great to hear that. Aside from the technology sector, which you mentioned at the beginning, which for obvious reasons is the current focus, what other industries do you believe make specific enforcement attention?
Rod SIMS:
Yeah look, quite a lot of sectors. We're focusing a fair bit on the aviation sector. Australia is quite big, as you know and aviation is just fundamental to the health of the Australian economy and we are really keen to make sure that we don't lose the competitive base of the aviation sector so we're putting a lot of effort into monitoring that closely, letting people know we're monitoring it closely. It's quite a complicated sector in Australia and we want to make sure we emerge from this COVID crisis with at least the same level of competition that we had when we went in. We've already lost our number two player. Fortunately, it's come out of insolvency and it's back in business but there's a lot to watch there.
The construction sector is one we're focusing on, not because of COVID, just because there's too many cartel cases there and that worries us. The banking sector worries us again because we're concerned about anti-competitive behavior there. But we're also focusing on mergers, a lot of new FinTech startups. Of course, I know many of them want to be bought out by the big four banks. We've got four major banks which are 80% of the market here in Australia but we don't want this FinTech revolution simply to see a reinforcement of the four players. We really have to make sure that consumers benefit, that competition benefits from FinTech and so we're watching that. And the other one we're watching is the energy sector. As the economy decarbonizes, we just need to be careful there's not anti-competitive acquisitions, anti-competitive behavior, which as part of all that approach to decarbonize, consumers paying high prices. That's another focus sector for ACCC.
Barbora JEDLICKOVA:
Thank you, Rod. My last question is, what in your view is the future direction of competition or enforcement domestically and internationally?
Rod SIMS:
Great question, and we'd love to have an hour on that one, but I'll do it in a couple of minutes. Clearly the focus on ex-ante regulation in relation to the digital platforms, big tech is fundamental. That's going to be a huge focus of ours as I mentioned earlier, so I won't talk about that again. Secondly, I think we and the rest of the world have to reflect a fair bit on, are we setting the hurdle for findings of anti-competitive behavior too high? We just had a case, now I know this is going to sound ridiculous, but the judge found that the anti-competitive behavior we were alleging was only to protect a monopoly in a sale process, it wasn't actually anti-competitive, which I'm still trying to work out. More importantly, the judge found that we had to prove that if the barriers weren't there to competition, that the new player would actually establish the competing port and that that would indeed be viable.
Now, it's not clear to me. We have to, in any jurisdiction around the world, we should be establishing that a potential competitor, which is clearly being blocked is ultimately going to be viable and succeed. That to me is raising the hurdle bar too high. The reason that's important is if antitrust is not doing the work we all want it to do, then either we'll have changes to antitrust we all don't want or we'll have other things in antitrust filling the void. I just think we've let the hurdle for what's anti-competitive behavior get too high and we've got to reassess that as antitrust agencies and practitioners otherwise, we won't be achieving what we're trying to achieve.
Thirdly, I think there has to be a big focus on merger law. That in a sense is a similar issue of the one I just mentioned because have we set the hurdles too high for blocking mergers? I think we have. And finally, I think we need even more effort these days on cooperation, international cooperation, amongst agencies and alignment of direction, alignment of thinking on mergers because we get so many more international mergers, alignment on cases. But if we are going to have ex-ante regulation, we've got to align that as well. A lot of issues there.
Barbora JEDLICKOVA:
Yeah. It all makes sense. Thank you, Rod, so much for sharing your experience and for your time and I'm wishing you and the ACCC all the best. Thank you.
Rod SIMS:
Thank you very much. I really appreciate the opportunity to talk to you and everybody listening. Thank you very much.