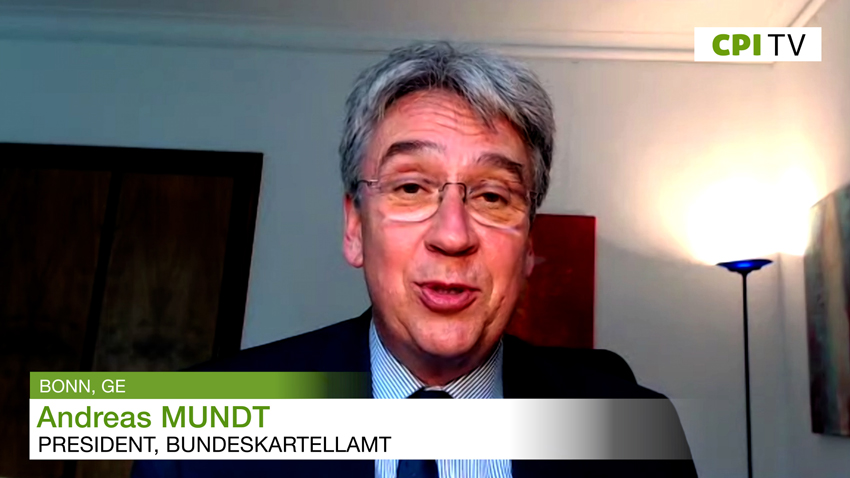 Below, we have provided the full transcript of the interview with Andreas Mundt, President of the German Federal Cartel office (Bundeskartellamt ), recorded on August 26, 2021.
This is part of a series of videos that CPI is producing where we will interview the heads of various NCAs all around the world.
Thank you, Mr. Mundt, for sharing your time for this interview with CPI.
A video of the complete interview is available HERE.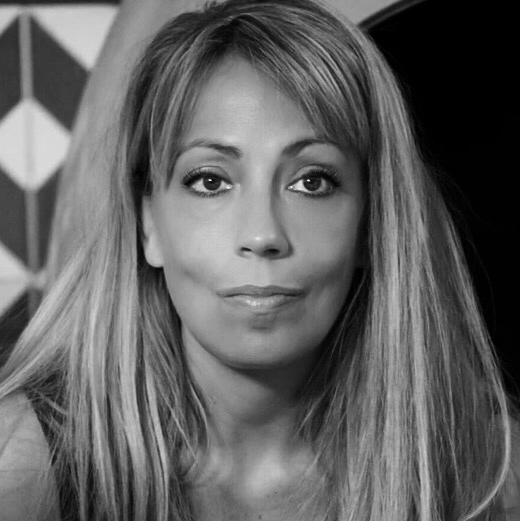 Elisa RAMUNDO:
Hi, everyone. And thank you for tuning in for another one of our Exclusive Talks with the heads of competition authorities from around the world. Today, we have the great honor to have Andreas Mundt, president of the Bundeskartellamt or Federal Cartel Office, and chairman of the international competition network. Good morning, President Mundt and thank you for accepting our invite and being with us today.
Andreas MUNDT:
Hello, good morning to everyone. It's great to be with you.
RAMUNDO:
President Mundt, you have been leading the Federal Cartel Office for a very long time, since 2009. And I guess it is accurate to say that this year was a very unique one. Certainly different from any other years you spent chairing the organization. I wonder then, how has your agency specifically dealt with the challenges posed by the COVID-19 pandemic? And are there any learnings that you would like to share with us today?
MUNDT:
As a competition agency, you can never shut down as other authorities, maybe because we have to do our merger work. It's coming in. We have to do work on it. So what we have learned in first place was, we can work from home. We can work digitally because we have lots of people here in home office. Had to organize that because we were not really prepared to that in such a big number.
Second point that we have learned competition law is really flexible. We have lots of asking for cooperations among companies during that time. They had to cooperate because market conditions were so different during this time. And we have learned that we can quickly assess these corporations. And we have also learned that competition in a way is also important during that crisis. Because we took very much care that a corporation that happens is going to be proportional even under these circumstances. That it is non-discriminatory. That everyone can act with these cooperating companies.
We took utmost importance on the fact that the corporation ends with a crisis in order to take care that it is not prolonged unnecessarily. So, we were not really lenient during that time, but we had different market circumstances. The market mechanisms were working differently and we had to take that into account.
Well, and last but not least, what we have really learned is also in times of crisis, international cooperation counts. From the very beginning I have called upon my ECN colleagues, and we set up a joint communication. How to deal with these circumstances during the crisis.
We had a joint approach in the framework of the European competition network, the ECN. In [foreign language 00:03:09] it worked well. The OECD has published a certain framework. So, I think it was very important that we had this kind of international cooperation. And we saw we were not alone with these problems. Everyone was confronted with it and we had to deal with it.
RAMUNDO:
Well, it is indeed very meaningful. And this is something that I've learned also by talking with other NCA heads. That in spite of the crisis, all competition authorities not only have continued their activities but, and now I'm referring in particular to the Federal Cartel Office, they've also learned to adjust to the new market mechanism that the pandemic brought about. Within this scenario, do you have any achievements that you would like to mention or underline?
MUNDT:
During the crisis, I mean, that was really the work that we have done on corporations. As I said, we had lots of corporations to assess. We had to act quickly because companies were really waiting for an answer during that time. And we saw how well that went and how well it worked.
I think that was the key difficulty during that time. We saw a sharp decline of mergers by the way. But only at the very beginning of the crisis. Later on, we got back to normal and even beyond that. So it was really on cooperation where we had faced most problems and we have done a good job, I guess.
RAMUNDO:
And now let's turn to the digital economy. We all know that the digital economy has been a focus for the Bundeskartellamt. With your agency being very active and one of the first one to directly address the digital economy with some recent amendments to its competition law act. I would like to hear your views of the challenges posed by the tech sector and whether you think there is a need for reforms.
MUNDT:
Well, the digital economy has really been in the focus of the Bundeskartellamt for many years now, we have done our first Amazon case with regard to price parity clauses for the Amazon sellers on the Amazon marketplace back in 2013. And we abolished these price parity clauses. By the way, in the US, they're still discussing if that has an impact on competition today. So, here we were really very, very early on.
What we have understood quite quickly, I think is how different the digital economy is. I mean, it starts with the vocabulary. We talk about network effects. We talk about data driven business cases. We talk about big tech companies. We talk about gatekeepers, ecosystems, lock-in effects.
Already, the vocabulary is new. And you don't find it in the law, by the way. I mean, there, you find something about market shares and excessive price. Whereas in the digital economy, there is no price, at least not in terms of money. There is a price in terms of data. But again, you don't find that in the law. I think we have achieved something already. I mean, we have had to do a lot of conceptual groundwork, but we have also done very successful cases here in Bonn, in our competition agency.
And what was very good and for which I am very thankful, also the legislator has reacted very quickly in Germany. We got a first digital update of our competition law in 2017. Implementing all these vocabulary that I have just mentioned into the law. Since then, I think the German competition was one of the only ones worldwide that talks about network effects. You find it in the law.
And in 2021, early this year, we got a second digital update of the German competition law with the 10th amendment of our law, which allows us now to act quicker. The law is more focused. You'll find theories of harm in the law. So, that will help a lot before codes. And that has taken care for a lot of clarification of the law. And then, for the application of the law.
RAMUNDO:
And beside the tech sector, are there any other industries that you think deserve antitrust scrutiny or attention?
MUNDT:
Well, I mean that of course, is always difficult to say beforehand. If I look at what is coming today, we are about or we're on the eve of publishing the results of four sector inquiries. One is about hospital mergers that will be published in due time. The second one is about waste management. In these times where everyone talks about sustainability, quite important, I guess.
A third sector inquiry will be about online advertising, also very topical. And the fourth one is going to be about the charging infrastructure for electric vehicles. Also a very topical issue given the disruption in the automotive sector during that time. I mean, what remains important of course is cartel prosecution in the future. You never have an idea of what is crossing your way next. That happens in all branches or industries.
And we have to see what is going to happen there. But I think these are key areas where we will be active also of course, in the digital economy. That goes without saying.
RAMUNDO:
And this brings us to the last question. What is in your view, the future direction, both domestically and internationally of antitrust enforcement?
MUNDT:
Well, to a certain extent, the song remains the same. I mean, we should never forget about our bread and butter topics, which remain extremely relevant for every competition agencies. That is cartel enforcement, that is merger enforcement. Of course, the digital economy will play a huge role. The digitalization of competition agencies, how we digitalize our work, is a topic that we have to deal with.
I think one issue that will be of great importance is how we are going to deal with public interest issues that comes our way with the topic of sustainability. But we have a political debate about the question if we shouldn't implement more public interest into competition law. Maybe a debate of which I am not very happy. But we have to be part of that debate. And we will have to find answers.
I think as competition agencies, in a way, we are about to broaden our scope. I mean, if you look at the Facebook case, that was very much at the intersection of competition law and privacy. In other areas, we work on the intersection of competition law and consumer protection. That plays a bigger role. You see that already also in the international competition network, where we have set up a working group that is dealing exactly with these questions.
And last but not least, I think we will do more work on international cooperation because that is also changing over time. We have a fantastic fundament here with the joint report, by the international competition network, the ECN and the OECD. And that is a wonderful resource where we can learn a lot. And I think we'll have to expand on that, how to organize our cooperation better in the future.
RAMUNDO:
Well, it sounds like international cooperation still remains of key importance for all competition authorities. We will all look very much forward to the next ICN meeting that will take place again this year, virtually, in October.
President Mundt, thank you again for being with us today. It has been a great pleasure. And I hope to see you soon in person. And if not, virtually. Thank you again.
MUNDT:
Yeah, I hope so, personally. I also hope we meet personally. Thank you very much. Thank you very much. Bye-bye.