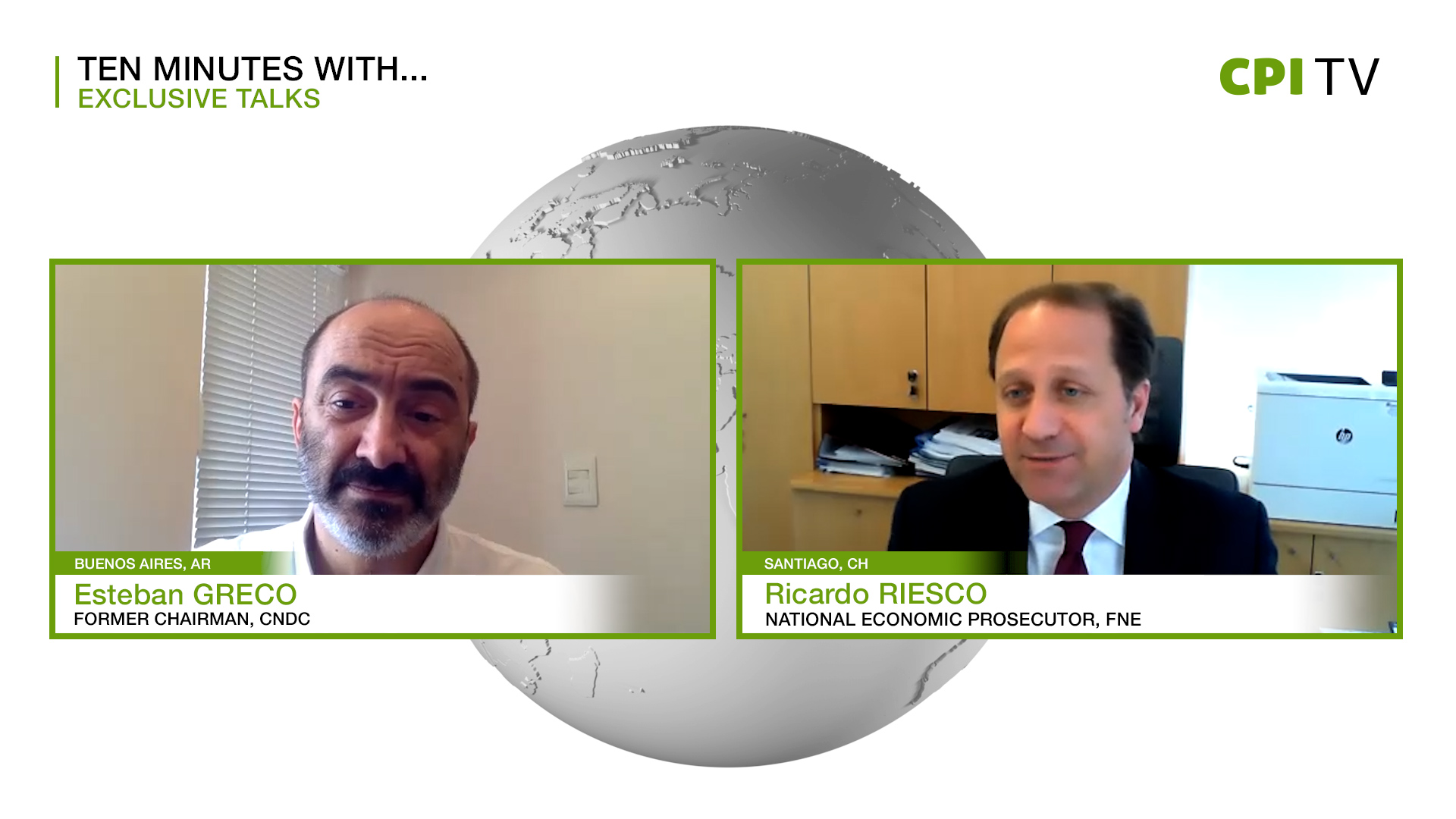 Below, we have provided the full transcript of the interview with Ricardo Riesco, National Economic Prosecutor of Chile's Competition Authority, the Fiscal Nacional Económico (FNE), recorded on October 22, 2021.
This is part of a series of videos that CPI is producing where we will interview the heads of various NCAs all around the world.
Thank you, Mr. Riesco, for sharing your time for this interview with CPI.
A video of the complete interview is available HERE.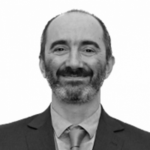 Esteban GRECO:
Hello everyone and thank you for tuning in today for one of our exclusive CPI talks with the head of competition authorities. Today we'll have the pleasure to speak with Ricardo Riesco, the Chilean National Economic Prosecutor. Who leads the national competition agency of Chile,  or Fiscalia. Good morning, Ricardo, and thank you so much for being with us today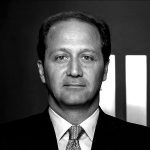 Ricardo RIESCO:
Good morning Esteban. It's a pleasure for me to be with Competition Policy International today.
GRECO:
Thank you. And we can start with a question about how has your authority dealt with the challenge of the COVID-19 pandemic, are there learnings that have emerged from the experience of the pandemic and the resulting and the resulting antitrust challenges?
RIESCO:
Thank you Esteban. Well, it's been certainly a difficult time for the Fiscalia, as I guess for all competition agencies all around the world. I would say, we've been working on a remote basis since March of 2020, and we are now in the process of returning to our offices on a safe basis. And it has been difficult for the Fiscalia, not only because of the COVID-19 pandemic, but also because of the social, political and economic environment in Chile, since October of 2019, we are now, as you might know, in the midst of a presidential election of a parliament election and also in the process of drafting a new constitution for our country. So I would say that our whole political system, but also our whole economic system or model is under review and scrutiny right now. So in some way, we're living in times of extreme uncertainty about the future in Chile, but at the same time, I think that all of this time has been a good moment to learn, or I would say better to reinforce a few lessons for us and the Fiscalia as a competition agency.
The first lesson I would say is stick always to the law. You may interpret the law more or less broadly, of course, but the institution can only do what the law allows it to do. So if you think that the institution should be granted more powers do more than the law is insufficient or outdated. Perfect. That's perfectly fine, but go and change the law. And then we will enforce the law as it is. That's I think the first lesson, the second lesson is that you have to always remain independent from the government and the Congress, and to always do your job based only on technical standards. In our case here as a competition agency, based on legal and economic analysis, I think that the professionality of your work is the basis for the prestige of any institution. So, and this in turn has a direct effect on the effectiveness of your enforcement efforts in the end, in any given country.
The third lesson, I would say Esteban is that you have always, this is a little bit obvious, I would say, but you have to enforce the law in favor of the public interest in a timely manner and against anyone who has breached the law. I mean, everyone has, and should be equal under the law. And this is in the end, our job to protect consumers in the market, which is the basis as we have seen in Chile for the proper functioning of a market economy and in the end of democracy itself. And the fourth lesson, I think we have learned here at the Fiscalia is that as a public institution, as an institution of the state of Chile, you are not allowed to close your doors and you are not allowed to relax the enforcement of the law. The Fiscalia will never stop making, for example, our merger review investigations, and we also never stopped conducting investigations and even intrusive measures in cartel cases throughout all this whole time.
And we are very proud of this as an institution. And also we're proud that the pandemic and the social political and economic crisis has not changed the anti-trust analysis of our cases. I mean, we have not and will not relax the enforcement of our competition laws based on circumstances. The current circumstances that are certainly very difficult, but they are transitory, they will pass. And I think these are the, like the main lessons that we learned, or at least reinforced during this difficult time for us and for the whole world.
GRECO:
Thank you, Ricardo. Very interesting, you mentioned something about goals of competition agency, we can talk a little bit about this later, but it is impressive, the activity that your agency had during this pandemic and this difficult situation. And so, do you have any particular achievement that you would like to underline and mention?
RIESCO:
Thank you Esteban. Well, indeed. And thank you for the compliment. I mean, it's been a difficult time, but also a very productive time for the Fiscalia. And the main focus of our work, it has been to fully enforce the new powers to our institution by the latest reforming Chile, which is dated August of 2016, a little bit over five years now, I would like to… Point to you two big developments, which are very recent also. Just this week it became public that we filed as a Fiscalia a complaint before the Chilean competition tribunal accusing the three main cash transportation companies of a hardcore cartel to fix prices between 2017 and 2018. The action was also directed against five local and regional executives of the companies. Two of them residing in Chile, one in Uruguay, one in Portugal and another one in Indonesia, the total amount of the fines is around $65 million for this place.
And this case has several interesting issues. It is the first case, for example, involving facts that are cured exclusively after the last reform to our law. Last reform that once again made hardcore Cartel's a criminal offense, which is punishable between 3 and 10 years. It was a case that was initiated by a leniency application made by an individual, not by a company. And this person was granted full immunity and criminal immunity. Also, we are trying that the executives of the companies, both local and regional executive be made responsible for the hardcore Cartel, which is a policy, but we're trying to stay here in this case. And another quite interesting thing of this case is lax is part of the evidence of the digital evidence that we collected in the case. The Fiscalia was assisted by the Federal Bureau of Investigation of the United States – by the FBI.
So we will see what happens with this case in the future before the Chilean competition tribunal, and later on before the Chilean Supreme court. And I would also like to highlight another case, which is different, but very, very important. The last reform to our law of August of 2016, granted the Fiscalia, the ability to make market studies. We have made seven market studies during the last five years. So the last one which was published, published recently on October 7, dealt with a Chilean liquified petroleum gas and the Chilean natural gas market. And we concluded in general terms that this market was not working properly and therefore recommended the government to make changes to promote competition. The first change that we recommended was that the wholesale distribution companies of liquified petroleum gas be prohibited from participating either directly or indirectly in the retail distribution to final consumers.
According to our calculations as Fiscalia, this should bring the price of every cylinder of liquified petroleum gas down by 15%. This would mean in practice savings for Chilean consumers amounting to around a hundred, $180 million per year. It is important to state, because it's quite particular to our country that liquified petroleum gas is used by around 70 to 80% of consumers in Chile, only a minority of the population has access to a natural gas network. The second change that we are recommending is to clearly regulate the right to open access to natural gas transmission networks, this was a right established in the law, but it was insufficiently regulated in the north. So we recommended that this be changed.
And the third change, the final change that we recommend following our market study is to modify how the maximum rate of return of natural gas distributors is calculated pursuant to our current law for certain consumers in Santiago and in Rancagua another city in Chile, in the Southern part of Chile, this would imply annual savings up to around $80 million. And now we will see what happens with these recommendations made by the Fiscalia, before the executive power, the government, and also at the Congress.
GRECO:
Thank you Ricardo. It's really impressive and remarkable the role of the Fiscalia enforcing the law and also with advocacy functions. So you mentioned digital evidence in some case, and this could, trigger my next question is what is your view on the current challenges posed by the technology sector? Do you believe that there is a need for reforms?
RIESCO:
Well, Esteban as you also know, I mean, the challenges of the digital economy are huge. I mean, while I think that probably the competition issues that they post are similar to those existing already in traditional industries, I think that the digital economy accelerates this competition issues. I mean, they take them to the next level. They occur at a much faster pace and scale if you want. And therefore, as Fiscalia, we are following the international debate on enforcement plans relating to the digital economy very closely.
For the moment. However, we have issued a new guide on the substantive assessment of mergers, which includes a chapter with the ambition of the Fiscalia on digital platforms. I think that while it's currently on a draft version, I think it has been valued by the national and also by the international community. We have also analyzed our first merger involving digital platforms in the merger between Uber and Corner shop in the end, it was unconditionally approved in phase two, but we have to conduct, we had to conduct a deep analysis of that merger because we were worried as a competition agency, that the merger could exclude a potential competitor in the market.
Since Uber had been analyzing to enter the market without Corner shop in an Alliance with another supermarket, instead of Corner shop, but in the end, Uber decided to buy Corner shop during the pandemic, we were able to conclude, almost like being in lateral experiment, that the market involving the delivery of food from supermarkets was very, very dynamic that the entry to this market was quite possible. And we saw that all of the current players, the incumbents, mostly supermarkets were updating their plans to rapidly compete in this market in a more effective manner. And in fact, this is what we see that it's happening in our market. You can actually see more competition. Now, that one year ago, we have also three investigations involving digital platforms that were made public one involving the unilateral change of the privacy conditions by Facebook and WhatsApp.
The second investigation involve the potential effect of certain exclusivity agreements and most favored nation losses, that are put in place by certain digital platforms. And the third investigation is one involving a potential cartel or collusion between digital applications to exclude a competitor from the Chilean market. And finally, I would say that I wanted to say that we recently created an intelligence unit to analyze data more precisely big data and algorithms in order to be able to detect cartel activity, particularly bid-rigging. And finally now, Esteban regarding potential changes to our competition laws because of the digital economy, I would think that it would be advisable to follow what other, perhaps more developed countries are doing and will do on this matter before taking action on our law on our own. I mean, because in the end, this is an international problem involving platforms that operate on an international level also. So I would say that coordination of policies seems of the essence to be effective in competition in form in this matter.
GRECO:
Thank you, Ricardo, really interesting. I think it's fascinating. The cases you, mentioned, and you have been pioneers in using digital economy tools applied to competition issues in Latin America. So, it's remarkable to, pay attention to these precedents, aside from the technology sector, which for obvious reasons is a focus of current scrutiny. What other industries do you believe married specific unfoldment of the action?
Well, thank you, Esteban. Well, I believe that, of course there are many industries that merit closer scrutiny in our country. To be honest, we are not very keen to reveal them because as you know, like me, that if we anticipate actions, evidence may be lost if you will. So in the end, that would affect the effectiveness of the enforcement actions of the Fiscalia. So what we can already say, however, related to this topic is that we will very soon inform which industry will be the focus of our next market study. Following the previous ones that we have made pursuant to our last legal reform. And we hope to be also as effective as in our previous market studies.
GRECO:
Thank you, Ricardo. for the last question, coming again to the goals and maybe to the future, what in your view is the future direction for antitrust enforcement, both domestically and internationally?
RIESCO:
Thank you, Esteban. Well, this is a very, very difficult question, indeed. I mean, it is clear, I think that the public is expecting a lot more from the competition authorities all over the world. And at the same time, the markets are getting more and more dynamic, more dynamic than ever. I would say they are changing every day at a very fast rate. So, and this is especially true for digital market. So the challenge in the end is really huge. I believe that competition authorities all over the world will in the end be granted more legal tools to act faster on a preventive basis. If you want, before the harm is done to consumers. Because as you know, once something has been done, something has occurred. It is very difficult to get it undone. I mean, it's like the unscrambling of the eggs that we always talk about when we talk about merger review, right?
Probably to give competition authorities legal tools to act faster on a preventive basis, will imply changes to the standard of evidence in competition law cases. And more importantly, I would say a shift in the burden of proof from the competition authorities, to the companies, to the parties involving involved in, a case, in a practice or in a merger. I think the shift will, the burden of proof will be shifted from proving efficiencies, probably rather to proving harm to competition. But to be honest, in my opinion, much more than having legal tools. I mean, I'm really convinced that competition authorities need more budget in the end. I mean, I think that from what I see now, not physically, but on a virtual basis is that all competition authorities all over the world are clearly understaffed. I mean, and this does not mean in my opinion, to create like a monster, a new bureaucracy that oversees all markets and drowns free enterprise and innovation.
I mean, we need institutions that are independent, technical, but also comprised of more people, the best people available in the markets, lawyers, economists, engineers among others to be able to adequately perform our functions. In my opinion, this is the best way to enforce competition laws, not only in Chile, but also in the world. And in that sense, I believe that it's very good news for example, that the U.S. Government announced that will increase the budget of the FTC and the antitrust division of the department of justice of the DOJ. I think this is very good news, and I hope that all of the other countries in the world followed that trend, but I think it's essential for the proper enforcement of competition laws and in the end for the proper function of the markets.
GRECO:
Thank you Ricardo. Very, very interesting. And thank you for sharing your thoughts and your time with us and with the CPI community. Thank you very much. It was a pleasure.
RIESCO:
Thank you, Esteban, and thank you, CPI, for the opportunity. Hope to see you all again soon.
GRECO:
See you