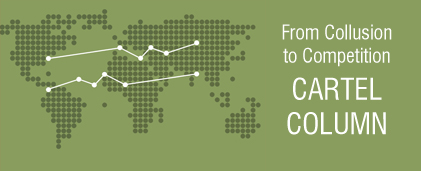 CPI Cartel Column edited by Rosa Abrantes-Metz (Global Economics Group/NYU Stern School of Business)
Welcome back to the cartel column "From Collusion to Competition." Much has happened since the last column, almost a year ago.  We are now back on after this long break, and have much ground to cover.
I dedicate this column to a very significant decision recently issued in the ISDAfix antitrust class action, titled Alaska Electrical Pension Fund v. Bank of America, N.A., 2016 WL 1241533 (S.D.N.Y. Mar. 28, 2016). Class lead counsel are Quinn Emanuel Urquhart & Sullivan LLP, Robbins Geller Rudman & Dowd LLP, and Scott+Scott, Attorneys at Law LLP.
Among several important aspects of this decision, the use of screens for conspiracies and manipulations (and in this case, my own screens) played an important role in addressing plausibility of such conduct at the complaint stage.
I hope you enjoy the reading!
Feel free to send me your comments and suggestions for future columns  to rabrantes-metz@globaleconomicsgroup.com
ISDAfix Decision
ISDAfix is an interest rate benchmark used to determine the settlement value of cash-settled swaptions (options on interest rate swaps) and other financial derivatives.  Plaintiffs' basic allegation was that the fourteen major Wall Street banks who set the ISDAfix rate each day conspired to rig ISDAfix in order to extract higher profits on financial instruments that are linked to ISDAfix.
On March 28, 2016, Judge
…