CPI (10)2
Autumn 2014, Volume 10 Number 2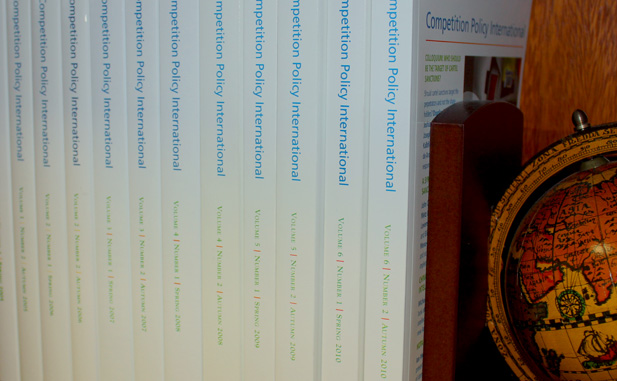 In this issue:
This Autumn/Winter 2014 issue completes the tenth year of Competition Policy International. During this time the CPI Journal has published 303 articles and our companion publication, CPI's Antitrust Chronicle, has published another 1,138. Taken together, CPI's complete works demonstrate—perhaps more effectively than anywhere else—the vibrancy, diversity, and increasing importance that antitrust issues have assumed in global legal, political, scholarly, and cultural arenas.
Letter From the Editor

Jean Tirole, who has been a regular contributor to CPI over the years, both begins our issue, with an article on payment card regulation co-authored with Helene Bourguignon and Renato Gomes, and ends our issue with the classic. Richard Schmalensee, who taught Tirole when he getting his Ph.D. at MIT, provides an overview of the importance of Rochet and Tirole's work on multi-sided platforms to industrial organization generally and antitrust specifically. Between these bookends we present a diverse selection of articles on the law and economics of multi-sided platforms by key contributors in the area. Our next section benefits from the fact that 2014 was a watershed year for court decisions on multi-sided platforms.

A Symposium on Antitrust Economics of Multi-Sided Platforms

Cases on Multi-Sided Platforms

In 2013, I served as a court-appointed expert in consolidated class and individual plaintiff antitrust litigation against Visa and Mastercard in the Eastern District of New York. The litigation involved a challenge to default interchange fees established by Visa and Mastercard, and to certain network rules imposed on affiliated merchants. Although it was not my task to adjudicate the dispute, an evaluation of the reasonableness of the eventual settlement from an economic perspective inevitably entails a comparison between what the plaintiffs received in the proposed settlement and the expected returns to the plaintiffs
of litigating the case to conclusion.

The European Court of Justice recently delivered two seminal rulings in Groupement des Cartes Bancaires v Commission and MasterCard v Commission. These two judgments brought much awaited clarification to the application of Article 101 of the Treaty on the Functioning of the European Union in two important areas. of litigating the case to conclusion.

On September 11, 2014, the Court of Justice overturned the judgment of the General Court upholding the European Commission's decision in Groupement des Cartes Bancaires. This paper contends that the Court of Justice's judgment is significant in two respects.

The Classic

The press release announcing that Jean Tirole had been awarded the 2014 Nobel Prize in Economic Sciences noted that he had "made important theoretical research contributions in a number of areas." One of his most important contributions was the discovery and pioneering analysis of multi-sided platforms in his 2003 paper with Jean-Charles Rochet, Platform Competition in Two-Sided Markets.

Many if not most markets with network externalities are two-sided. To succeed, platforms in industries such as software, portals and media, payment systems and the Internet, must "get both sides of the market on board."

eBook

View, download, and print the CPI Autumn 2014 eBook (PDF).
Subscribe to CPI
CPI has a variety of subscription options to meet your needs. Get all the in-depth information you need about global antitrust and competition policy.
Our readers visit us from over 150 countries. Welcome to our global community.
For group or institution wide subscriptions please contact us for more details.
About the CPI Journal

Competition Policy International is a peer-reviewed, academic journal that covers competition law, economics, and policy. Issues are published twice a year in the Spring and Autumn and in both print and online forms (print ISSN 1554-0189; online ISSN 1554-6853).
Founder and Publisher

University of Chicago, Chicago, IL, and 
University College London, London, U.K.
Editor-in-Chief

Centro de Investigación y Docencia Económicas (CIDE), and 
Instituto Tecnológico Autónomo de México (ITAM), Mexico
Co-Editors

University College London
London, U.K.
Antonio Bavasso
University College London and
Allen & Overy, London, U.K.

Keith N. Hylton
Boston University School of Law
Boston, MA, U.S.A.

R. Ian McEwin
National University of Singapore
Singapore

Susan Ning
King & Wood
Beijing, China

Michael A. Salinger
Boston University School of Management
Boston, MA, U.S.A.

Editorial Board Chairman

MIT Sloan School of Management 
Cambridge, MA, U.S.A.
Editorial Board
Joseph Angland
White & Case
New York, NY, U.S.A.

Christopher Bellamy
Linklaters
London, U.K.

Dennis W. Carlton
University of Chicago
Chicago, IL, U.S.A.

Frank H. Easterbrook
U.S. Court of Appeals for the 7th Circuit
Chicago, IL, U.S.A.

Einer R. Elhauge
Harvard Law School
Cambridge, MA, U.S.A.

John Fingleton
U.K. Office of Fair Trading
London, U.K.

Nicholas J. Forwood
General Court of the European Union
Luxembourg. Lux.

Douglas H. Ginsburg
U.S. Court of Appeals for the DC Circuit
Washington, DC, U.S.A.

Herbert Hovenkamp
University of Iowa College of Law
Iowa City, IA, U.S.A.

William J. Kolasky
WilmerHale
New York, NY, U.S.A.
Valentine Korah
University College London
London, U.K.

Bruno Lasserre
Autorité de la Concurrence
Paris, France

Mario Monti
Bocconi University
Milan, Italy

Timothy J. Muris
George Mason University School of Law
Arlington, VA, U.S.A.

Eduardo Pérez-Motta
Federal Competition Commission
Mexico City, Mexico

Richard Posner
U.S. Court of Appeals for the 7th Circuit
Chicago, IL, U.S.A.

Patrick Rey
IDEI and University of Toulouse
Toulouse, France

Vivien Rose
Competition Appeal Tribunal
London, U.K.

Bo Vesterdorf
University College London, London, U.K. and
Plesner, Copenhagen, Denmark