Nov 25, 2015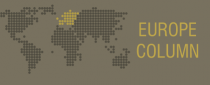 CPI Europe Column edited by Anna Tzanaki (Competition Policy International) & Juan Delgado (Global Economics Group) presents:
The Sharing Economy, Competition and Regulation by João E. Gata1 (Portuguese Competition Authority)
Intro by Juan Delgado (Global Economics Group)
The so-called "sharing economy" has boomed in the last couple of years due to the universalisation of the internet and the ubiquity provided by smart phones. The emergence of new online businesses shows the need to rethink existing offline regulation. The frontier between the online and offline worlds is increasingly blurred. João E. Gata explores the regulatory and competition policy challenges raised by the sharing economy showing that the materialization of online revolution benefits does not only require "digital" policy interventions but also, and often most importantly, interventions in the offline world.
Abstract
The term 'sharing economy' has become an umbrella encompassing different types of economic activities, somewhat informal, though all of them dependent on online platforms that bring together providers of different goods and services and users, and where mutual trust is an essential input as standard and more intrusive regulation is often absent. Involving new governance structures as a response to lower transaction costs, the sharing economy can promote greater efficiency in the use of already existing economic assets and lead to possibly better inves
...