T-Mobile CEO John Legere took to Twitter on Tuesday to say a Wall Street Journal story about the status of its merger with Sprint is "simply untrue."
The tweet pointed to the first paragraph of the WSJ story, which says: "Justice Department antitrust enforcement staff have told T-Mobile US Inc. and Sprint Corp. that their planned merger is unlikely to be approved as currently structured, according to people familiar with the matter, casting doubt on the fate of the $26 billion deal."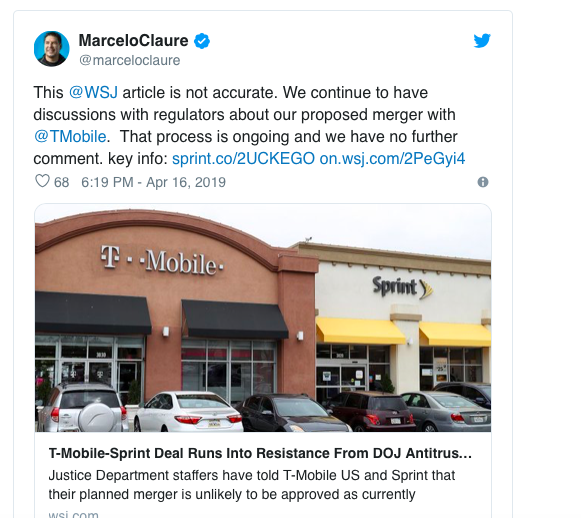 Legere said the company would have no further comment "out of respect for the process."
The Justice Department, which evaluates corporate mergers on the basis of seeing whether a resulting company would pose antitrust concerns, has been leery of recent attempts to combine the four remaining major wireless carriers in the United States.
In 2011, AT&T abandoned a bid to buy T-Mobile after it realized it was facing tough scrutiny from the Justice Department over antitrust concerns.
The Wall Street Journal's report also indicated that Justice Department staff questioned whether the combined company would result in the efficiencies that Sprint and T-Mobile have championed since the proposed deal was announced last year.