Spring 2021, Volume 3, Number 1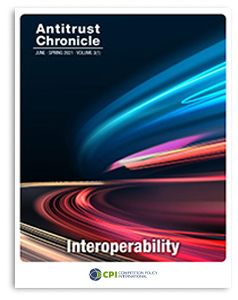 Antitrust Chronicle® – Interoperability
Interoperability has long been a controversial issue in antitrust law and related regulatory disciplines.
The concept refers, essentially, to the ability for systems controlled by different operators to be compatible, and in particular to share information and function in conjunction with each other.
Interoperability can take many forms. For example, telephone systems operating on the basis of one standard must interoperate with other standards in order to allow cross-network telephone calls. Interoperable file formats allow documents made in one computer program to be opened and edited in a competing program without loss of data. Cross-border rail networks are based on the interoperability of trains due to common rail gauge standards.