Winter 2021, Volume 1, Number 2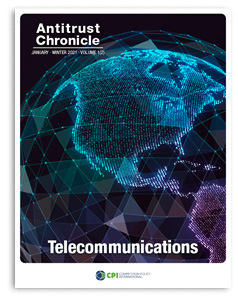 Telecoms markets have long formed the vanguard of antitrust enforcement. From the formative days of the antitrust treatment of the Bell System in the U.S. in the 1960s, to seminal cases such as Verizon v. Trinko in the U.S. and cases such as Wanadoo in the EU, telecoms issues have long defined the contours of antitrust doctrines.
This dynamic continues to this day, with, for example seminal merger judgments on both sides of the Atlantic in telecommunications markets. Telecommunications, as a network industry, also has many lessons for upcoming debates on the regulation of digital markets. Questions of ex ante v. ex post regulation, in particular, have echoes of past debates in telecommunications regulation and are therefore of great salience today.