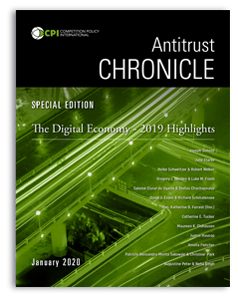 The Digital Economy - 2019 Highlights Special Edition
2019 was, by any definition, a landmark year for international antitrust enforcement in the digital economy.
CPI published numerous articles on this subject during this critical year. These articles relate not only to ongoing enforcement activity and case law, but also touch on the studies and reports that regulators have commissioned this year to address the question of how to frame and conceptualize competition enforcement in this crucial sector.
Over the past year, we have published contributions from notable scholars, regulators, and practitioners who specialize in this industry, across the world.
This special edition of the CPI Antitrust Chronicle® recaps these valuable contributions, and in addition publishes an interview with Mr. Joseph Simons, the chair of the U.S. Federal Trade Commission, who, like our other contributors, is at the coalface of this vital frontier for antitrust enforcement.
This issue recaps developments from 2019, but the digital economy is here to stay. As practitioners, regulators and academics from around the world grapple with this challenge, CPI will continue to provide our readers with a comprehensive, balanced perspective on the evolution of law and practice.